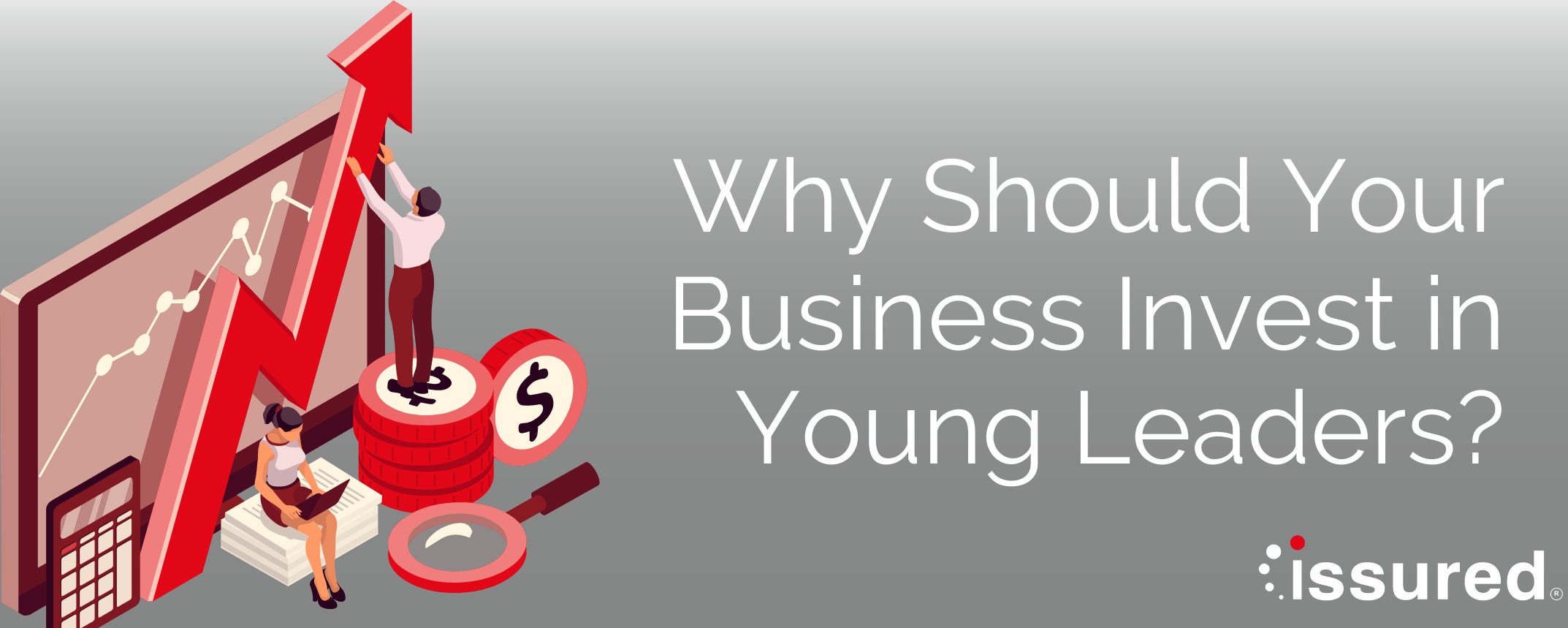 Why Should Your Business Invest In Young Leaders?
According to the CIPD Youth Employment Report 2021, 30% of respondents said that lack of effective training/development programmes contributed to failing to meet their career expectations, leading to dissatisfaction in the workplace. This is the second highest reason, behind poor line management which impacted 34% of respondents. The importance of these statistics is evident when the CIPD notes "…that many employers are struggling with staff shortages, highlighting the need for more organisations to invest in young people to bolster their talent pipelines."  
Enabling your young employees to develop their skills and strengthen their knowledge will significantly improve their satisfaction, in turn producing higher quality work in conjunction with increased productivity. In this article we will uncover why businesses should invest in young leaders, why a younger workforce is important for business and provide 3 tips for businesses looking to invest in their talent.  
Investing in your people
There are countless reasons an employer should invest in their employees, but the primary justification is that individuals want to see a business, investing not only time and resources in them, but the belief that they want employees to stay and develop within the company.  
Why are young leaders important in business?
Future-proofing the business
To ensure the longevity of a business, one cannot rely on an experienced workforce forever. It is essential that while you have experienced workers, their knowledge is passed for posterity, saving you the stress of building, and training young employees without guidance of expert personnel.  
By taking time to develop new starters, you are providing vital experience in maintaining and operating a business. Thereby safeguarding your business with a workforce that is competent and able to swiftly transition between generations of employees.  
Innovative ideas from fresh staff
Although you may have a process or routine you like to adhere to, young employees offer a fresh perspective and plenty of enthusiasm and energy, ready to try a different approach which you had not noticed before.  
After years spent learning in education, young people are ready to test what they have learned and produce potentially new and innovating methodologies for procedures that need modernising. Moreover, if your target market is young people, it makes perfect sense to hire individuals from this demographic to ascertain insights into reaching and communicating with their generation.  
Eager to learn
The greatest attribute of young people is their ability to learn and adapt to new challenges. Most new workers will have recently concluded their time in education, whether that is secondary, further, or higher, they are already operating in a 'learning' mindset. Take this opportunity to delve into your experiences of the working-world, imparting wisdom on your progression and training that they could undertake. Young people are eager to learn, do not squander the chance to preserve their enthusiasm, so begin by facilitating progress in their career.  
3 Tips for businesses looking to invest in their young leaders
Tip 1: Offer a variety of opportunities
By encouraging your staff to take opportunities to learn and develop, you will see a noticeable increase in productivity, performance, and morale. Offering to fund a training programme to enrich their knowledge or giving them allocated time to develop their skills each week will pay dividends eventually.  
Tip 2: Be open minded 
It is no revelation that younger people have become, and will continue to be, digital natives capable of absorbing and understanding modern technologies with ease. By nurturing these skills and being receptive to new approaches, younger people will feel involved in the business, leading to innovation and a business that champions innovative ideas. This creates an environment free of derision, an attractive prospect for more talented and young people to join the business.  
Tip 3: Continue to develop
Unfortunately, this will not be a matter that can be solved once and forgotten about. Your young employees require continual support in their professional development, therefore by having a system in place to plan, track and analyse the progress they are making, you will reap the benefits of a focused workforce with clear targets in mind.  
What can I do next?
As mentioned in the introduction of this article, we are at a stage where staff shortages are impacting businesses and putting a stop to innovation across the sectors. Therefore, by offering incentives to young people through training programmes and dedicated investment in their future, you will see positive results not only on paper, but also in the employees' attitude and their personal investment in the business.  
If you would like to see your workplace thrive and continue to develop, consider placing your young employees on Issured's Aspiring Leaders Programme. Our CMI recognised (Chartered Management Institute), CPD certified (Continuing Professional Development) course is aimed at individuals preparing to take their first step into a leadership or management role.  
Contact us at: training@issured.com or for more information or to book a place visit: https://www.issured.com/aspiring-leaders-programme/  
Recent Posts
Barack Obama is one of the most photographed humans alive on Earth, and although this level of publicity is to [...]

With the introduction of ChatGPT in November 2022 and the rapid progression in machine learning and AI technology, it's no [...]