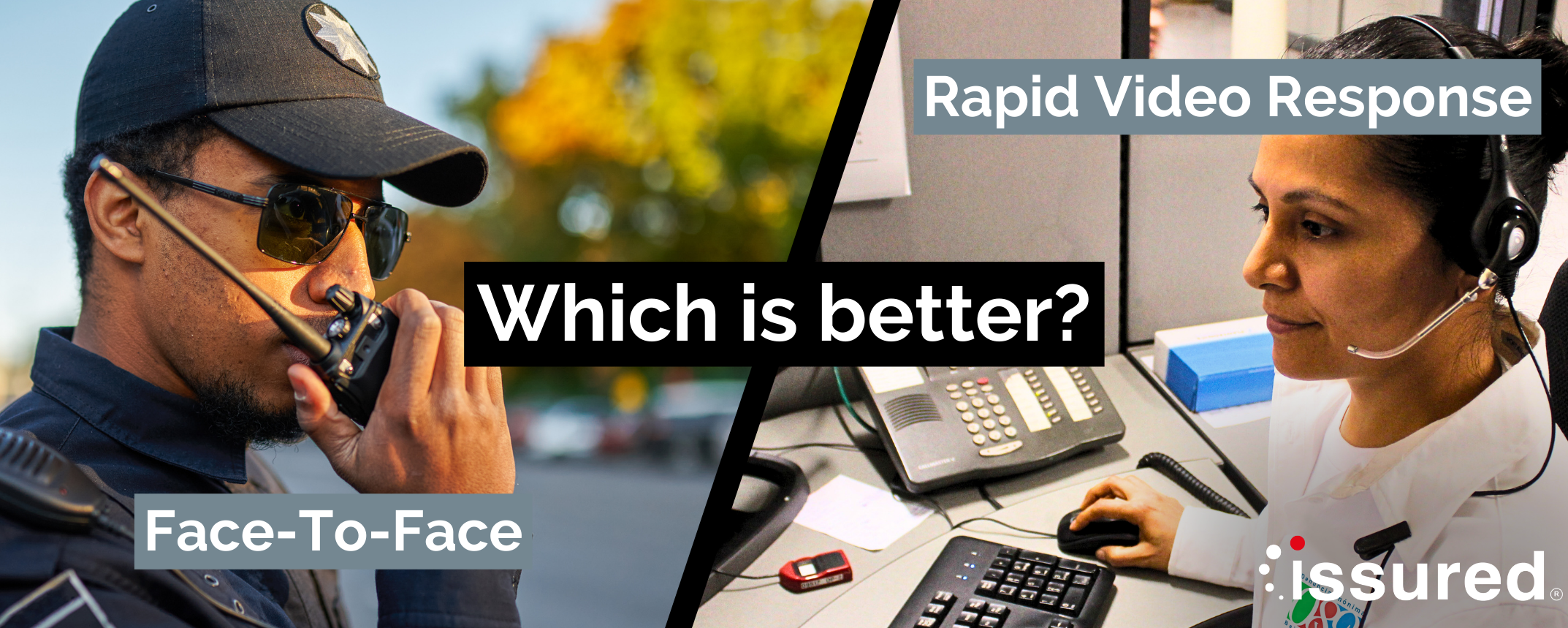 Victim Support: Face-to-Face Versus Rapid Video Response
As the digital age is well and truly underway, we have entered a time of transition where selected roles and tasks are being performed online, but this tectonic shift can be a challenge to become widely accepted. Whilst some industries are grappling with this change, some are realising the benefit of instant communication and its time and money saving effectiveness. Law enforcement and victim support is traditionally a face-to-face role, but as we uncover in this article, remote communication can benefit victims, officers and support staff for a number of reasons.
In a Cambridge Journal of Evidence-Based Policing study, a team of experts carried out an investigation into the effectiveness of Rapid Video Response (RVR) versus Business As Usual (BAU) when responding to domestic abuse calls. The research was conducted during the pandemic in 2021, and took place in Kent, UK, a large county with a population of nearly 2 million people.
In this article, we review the results of the Cambridge study, the police departments that have already implemented RVR and a tamper evident solution that has multiple use cases in law enforcement.
The Results of the Cambridge Study
Published in 2022, this study was conducted by randomly assigning callers to either a uniformed police officer on a video call or to a regular 'Business As Usual' officer, requiring the officer to travel to the victim.
The first most striking result shows that response to the victims was 656 times faster from the video call (3 minutes) compared to the deployment of an officer in a car (1969 minutes).
Not only was the response time quicker, the satisfaction of the victims was higher from the RVR at 89% compared to only 78% for BAU. The drop in dissatisfaction from the BAU group is potentially caused by the severe delays some victims experienced.
Unsurprisingly, due to the fast response times, RVR had a 50% increase in arrest rates compared to BAU.
In the conclusion of the paper, it is noted that 'RVR helped domestic abuse victims far more rapidly than BAU'. As a result of this success, the Kent Police have integrated RVR as part of their response offering to victims of abuse.
Benefitting both the public and the police
Although video calling has yet to become a mainstay of response in law enforcement, it is evident that there are many benefits to both the police and the public they serve.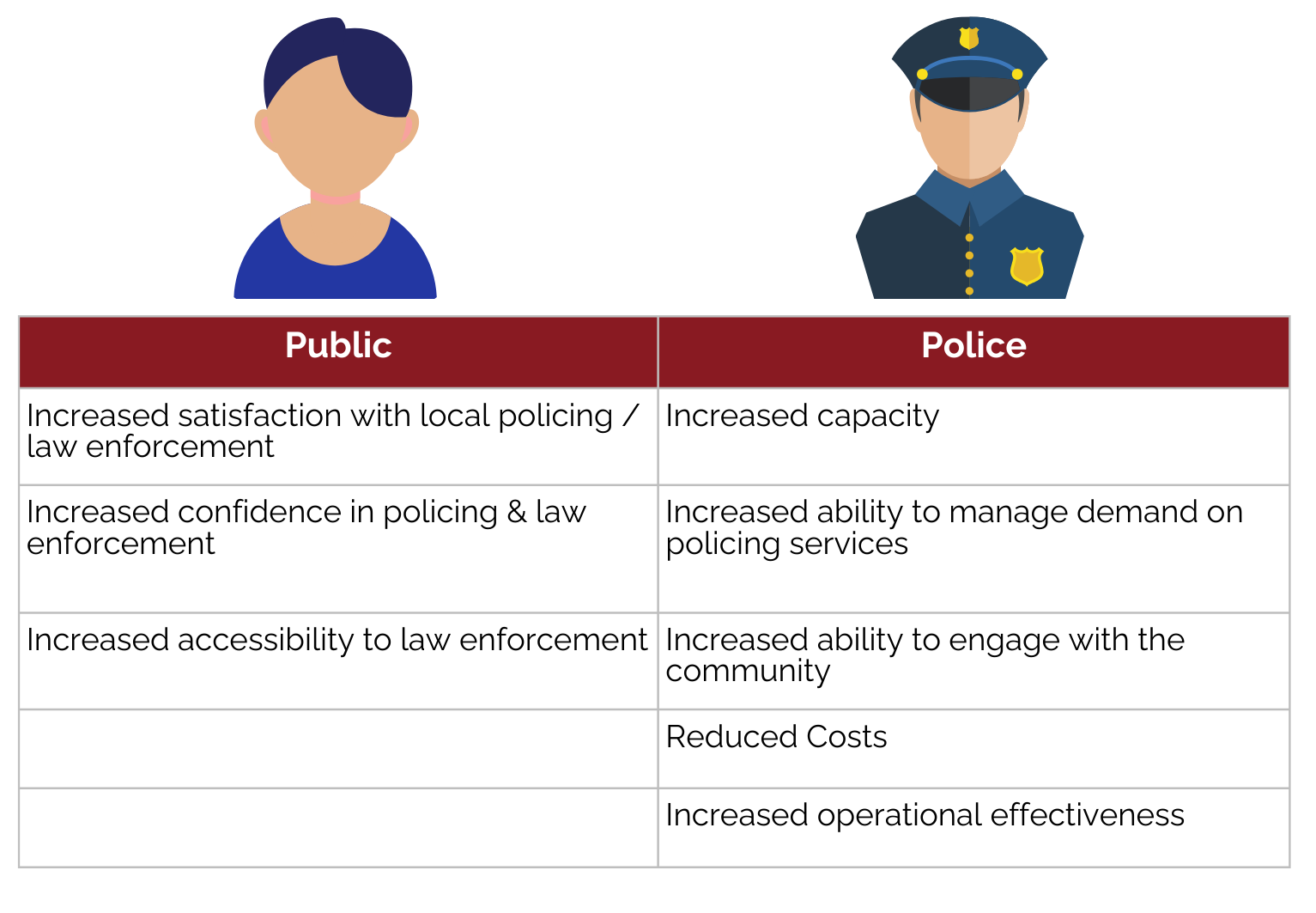 Making Rapid Video Response Part of the Law Enforcement Toolkit
Many forms of engagement with the public by Law Enforcement Agencies can be supplemented, if not replaced, by online video interviews. If the results shown in the Rapid Video Response were extrapolated across other types of crime and incidents we can only imagine the incredible way that it would help departments and agencies that are needing to do more for less.
With a society that has become more transient due to the nature of employment and leisure, the ability to remotely interview any witness or victim of any type of crime will rapidly lead to better investigative outcomes. Victims or witnesses can perform the interview in their own home at a time that suits them, instead of a law enforcement officer tying up their time to travel to and from their address.
The borderless nature of modern crime can also often lead to the need for departments and agencies to collaborate over distance. At least with remote video interviews, interested parties, such as intelligence or investigative teams, and supporting personnel such as translators, can join, observe and contribute to the interview remotely.
So what is the right tool for the job, as not all online video communication tools are the same. Should departments and agencies use solutions that have been designed to suit hundreds of different use cases or are there software tools that can meet the needs of law enforcement more effectively?
MeaConnexus – The Right Tool for the Right Job
Designed specifically for law enforcement and the investigative use case, MeaConnexus is a simple to use, secure and tamper evident solution that allows law enforcement to manage their interview evidence and information easily and effectively.
Digital disinformation and the likelihood of legal challenge on digital evidence is becoming an ever increasing threat due to the growing prevalence of generative Artificial Intelligence. How long will it be before legal representation starts to challenge the authenticity of digital evidence?
MeaConnexus, built using blockchain technology, has been designed to counter this threat and make it easy for all parties to prove the authenticity of the video interview content. It provides the level of evidential integrity that you would expect from conducting a physical face to face interview.
With in-built features that replicate law enforcement investigations digitally, MeaConnexus was designed to make interview content easy to find, analyse and annotate. Including features like silent observers (remote two way mirror to the interview room) and automatic transcription, Mea Connexus is the NIST and CJIS compliant way to make your law enforcement investigations more effective.
Learn more about MeaConnexus and its applications in law enforcement via our website: https://www.issured.com/applications/mea-connexus/
Ready to try MeaConnexus out? Get in touch to book a demo or start your free trial today: https://www.issured.com/contact-us/
Recent Posts
Barack Obama is one of the most photographed humans alive on Earth, and although this level of publicity is to [...]

With the introduction of ChatGPT in November 2022 and the rapid progression in machine learning and AI technology, it's no [...]