A secure virtual interview platform
Would you have a confidential interview in a public place?
Would you send interview content to an unknown location, into unknown hands?
Are you confident in the security, authenticity, and validity of your current video interview platform?
Introducing Mea: Connexus – a secure, tamper-evident solution you can trust for performing formal interviews on any device.
Unlike other virtual interview platforms, Mea: Connexus uses Blockchain technology to protect the authenticity of the interview content. Acting as your own digital evidence bag, if even a single pixel is tampered with, all involved parties will be able to tell.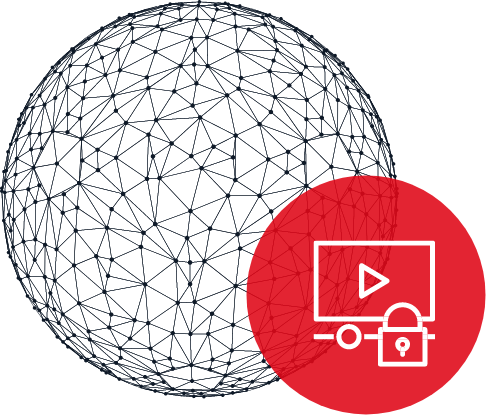 Benefits
One of a kind
The only video interview solution that uses Blockchain to ensure credibility & integrity.
Authentic
If any alterations are made to interview content, you and interested parties will be able to tell.
Secure
Store, share & download your content with confidence.
Storage Included
Store content using 1TB of included secure cloud storage
Efficiently Controlled
Manage sensitive data with a structured case management interface.
Safe
Only allows connection for known corporate IP addresses.
Less Downtime
Save hours with instant, automatic transcriptions.
Easy to use
Interviews are just a tap away, with no app download needed.
No travel costs
Save money and reduce your carbon footprint.
Quality Assured
Meet instantly to ensure fresh memory & quality information.
Customer Assurance
Fully GDPR complaint, with Security Cleared support staff.
Extremely high video and audio quality
Automatic recording & transcription of all speech
Additional storage available at a transparent cost
Key features
Enhanced security to safeguard your organisation
Protected
All recorded content is tamper-evident and credible, preventing any legal challenges or investigations.
Encrypted
All recorded content is securely stored & backed up to the cloud with 256-bit AES Encryption.
Preserved
Visual alterations, such as blurred backgrounds and filters, are prohibited to ensure user authenticity.
Transcriptions
All video interviews are instantly, automatically transcribed with time codes and names
Silent Observers
Allow another user to observe your interview remotely & feed information, without the participant knowing.
Bookmarks
Benefit from the ability to bookmark key points in your interview and add annotations.
Compliant with the NIST Cybersecurity Framework
Managed and supported by UK cleared security staff
Aligned with the National Cyber Security Centre SaaS and Cloud Principles
Designed and managed in compliance with the US CJIS Security Policy
Confidence and assurance for both hosts and participants
Branded
Display your own corporate identity & branding to build trust.
Flexible
Additional features can be facilitated to support your business.
Manageable
Create secure groups and customise user permissions for protection.
Auditable
Manage, audit & report on your organisation's usage and access.
US Patent Number 11,539,774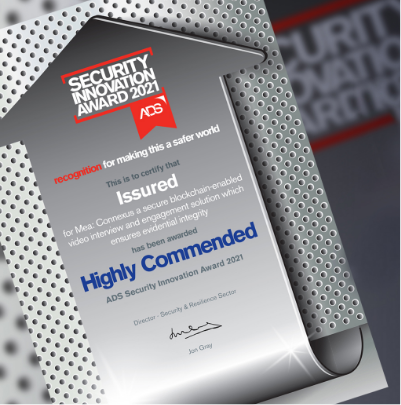 Security Innovation Award 2021
Recognition for making this a safer world
This is to certify that Issured has been awarded:
Highly Commended
ADS Security Innovation Award 2021
For Mea: Connexus – a secure, blockchain-enabled video interview and engagement solution which ensures evidential integrity.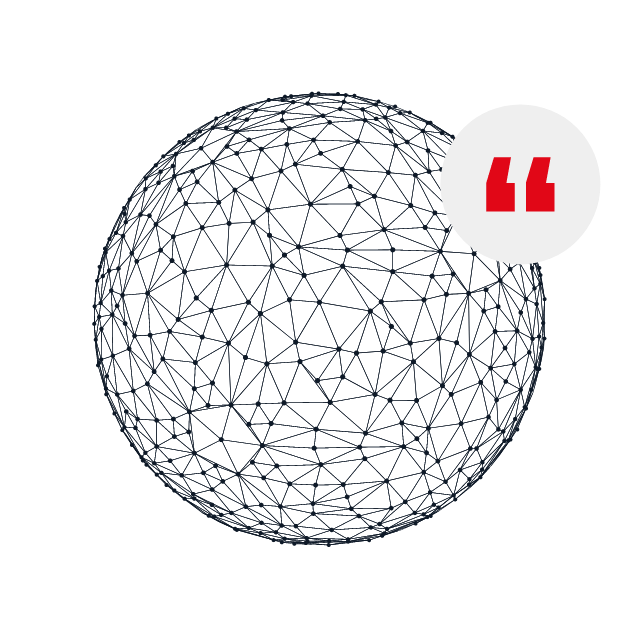 Zurich have worked in close partnership with Issured to integrate Mea: Connexus into our existing counter fraud investigation processes. Remote interviewing is a key investigative component for modern counter fraud teams and Mea: Connexus provides a next gen solution to empower our investigators to get the best results. The product provides us with a highly secure and intuitive method by which to manage, conduct and maintain remote interviews, building on prior existing solutions with a range of innovative new features. Most importantly, we are enjoying working in true partnership with Issured, who have taken a collaborative, knowledgeable and agile approach to ongoing product development.
At Inside Justice, our mission is to empower individuals convicted of a crime they say they did not commit by working closely with statutory and voluntary partners across the criminal justice system.

 Mea: Connexus provides us with the capability to securely contact the family and supporters of applicants and to record and create an audit trail of their issues, concerns, our agreed next steps, and actions. It provides us with an immutable audit trail of case conference calls which can be referred to if issues, complaints, or challenges to the content of those calls arise. Importantly it is extremely easy for participants to connect from any platform and has provided us with great savings in time and resource and helps us to provide a quick and efficient service. The quality of video and audio provided by the platform has meant that formal interviews and meetings can reliably be made remotely, safe in the knowledge that the content can always be trusted.
As a charitable organisation that investigates miscarriages of justice, confidentiality and reliability are key issues when undertaking video interviews of witnesses in our criminal cases.
Issured's encrypted blockchain security and transcript functionality were key attractors to Inside Justice when choosing to use this robust and professional product.
Ever increasing demands on law enforcement means that police departments and agencies must think differently. Mea: Connexus provides cutting edge technology to perform secure and tamper evident investigative interviews, depositions, formal hearings, and meetings without the need for 'in person' contact.

The savings and efficiencies therefore will be significant enabling such interviews with the likes of victims, witnesses, staff and partners to take place on-line, in a secure, encrypted environment, supported with live time auto transcription and preserved evidentially for future use. This will enable law enforcement to conduct their business more effectively.
Schedule a demonstration