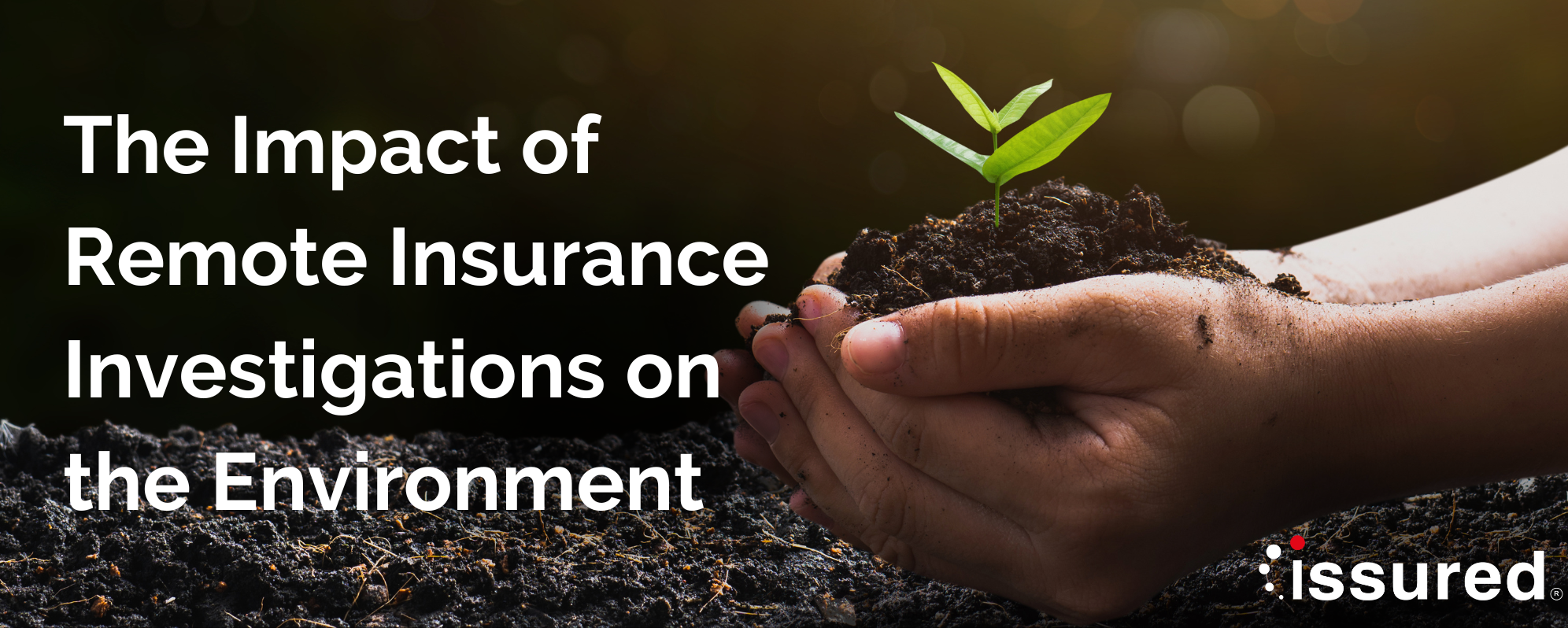 The Impact of Remote Insurance Investigations on the Environment
If the past three years have taught us anything, it's that when push comes to shove remote working is a viable alternative to an in-person workplace. The pandemic was of course the catalyst for this change, but the infrastructure was there or ready to be put in place by most organisations.
With this shift came a reduction in CO2 emissions as fewer people were travelling or using carbon taxing modes of transport. The environmental impact of this has been well documented and, while there are negative impacts of Working From Home (WFH), it's generally seen as a net positive on the environment.
Fast forward to today and we are in a position of deciding whether we continue with WFH, a hybrid approach or back to a traditional physical workspace. In this article we will discuss the impact of virtual insurance investigations on the environment, how insurance investigations are conducted online and whether it is a viable alternative to physical investigations.
Is remote video technology better for the environment?
At a surface level, it may seem that remote investigations should be less carbon-intensive than its physical counterparts, but there are many factors to consider.
In a study undertaken in 2021, a student of the University of Michigan studied the impact of virtual conferencing and the amount of carbon emissions produced using this method of communicating. The results concluded that 6 hours of intensive remote video calling between 200 users produced 1,324kg of carbon dioxide emissions, however, this is still cleaner than traditional conferences. Physical meetings create 66 times the amount of CO2 of their virtual counterparts.
To put the amount of CO2 emissions generated into perspective, according to Nimble Fins, when driving 50 miles per hour, 9250g of CO2 is produced (185g per mile). Compare this to videoconferencing, which emits between 150 and 1000 grams of carbon dioxide per hour per user (Daily Mail).
Are virtual insurance investigations a viable alternative?
Concerning insurance investigations, field investigators will often travel to take statements from claimants. Yet, instead of spending time and money travelling, a virtual investigation can be carried out using remote video technology to process claims.
DLB Investigations wrote an article about their transition from physical to online investigations. In the article they explained that, '…to give credit to the majority of interviewees, they are probably less 'techno phobic' than they might think. Nowadays, the savvy online shopper knows a thing or two about using a search engine to compare and purchase a range of goods and services.'
How insurance investigations are conducted virtually
Claims
The most obvious use of video calling in Insurance firms is to assist in claims investigations. Through timely service, claims will be processed quicker, giving insurers more time to investigate other cases. The claimant will be happier with the quality of the service, as less time is spent waiting for the investigation to take place in person or through an intermediary.
Advice
Offering advice on complex insurance policies or other potential matters can be successfully performed over a remote video platform. Automatic transcriptions of the call can be made and sent to the customer after the meeting should they need to reference the content of the call again.
Support
Much like the advice an insurance firm could offer, support, either customer service or technical, can be handled through video calling. It can make the process of dealing with support tickets extremely efficient and quick, leaving customers satisfied with the prompt service.
Mea: Connexus – the safest interview platform
Issured have recognised two key drivers for reform in the insurance investigation process.
We know that investigators are under increasing pressure to boost efficiency and make financial savings in the process.  We also recognise that the way organisations and businesses capture interactions and interviews with people is outdated and does not meet the expectations or security requirements that the public expect in our digital age.
To combat these issues, Issured have developed Mea: Connexus, a secure and tamper evident video interview platform built with trust as a core requirement. Our innovative platform, using Blockchain Technology, allows for individuals to be interviewed quickly, easily, at a time and location where they feel most comfortable while retaining evidential integrity.
Don't take our word for it, this is what the head of claims fraud at Zurich UK had to say,
"Zurich have worked in close partnership with Issured to integrate Mea: Connexus into our existing counter fraud investigation processes. Remote interviewing is a key investigative component for modern counter fraud teams and Mea: Connexus provides a next gen solution to empower our investigators to get the best results. The product provides us with a highly secure and intuitive method by which to manage, conduct and maintain remote interviews, building on prior existing solutions with a range of innovative new features. Most importantly, we are enjoying working in true partnership with Issured, who have taken a collaborative, knowledgeable and agile approach to ongoing product development."
Learn more about Mea: Connexus, get in touch today to book a tailored demonstration of Mea: Connexus or read our Mea: Connexus in Insurance brochure for more details.
Recent Posts
If the past three years have taught us anything, it's that when push comes to shove remote working is a [...]

Following on from our latest article where we dove into the police shortage crisis in the USA, a recent news [...]