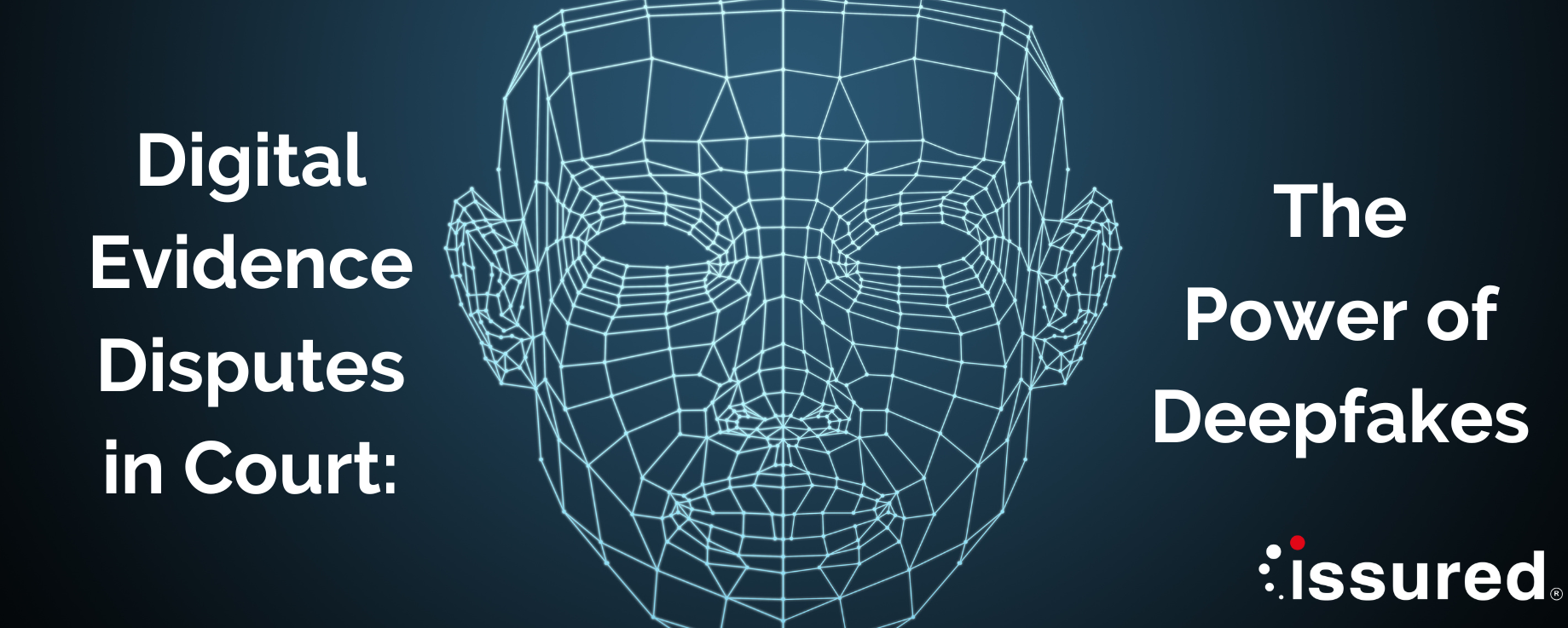 Digital Evidence Disputes in Court: The Power of Deepfakes
With the introduction of ChatGPT in November 2022 and the rapid progression in machine learning and AI technology, it's no wonder that deepfakes have found their way into our day-to-day lives. As this technology continues to develop and become more accurate, we are at the precipice of requiring a system to detect deepfakes or at least know methods of prevention.
Digital evidence is a crucial element in the court system, from bodycams worn by law enforcement to CCTV capturing theft, these tools make it easier for verdicts to be made but only if the digital evidence is legitimate. But how does one know when digital evidence is authentic and is not a deepfake?
In this article we will examine examples of deepfakes and other digital evidence used in courts, both admissible and inadmissible, how this applies to law enforcement and what solution could there be to prevent disputes in digital evidence.
Examples of deepfakes and digital evidence in court
One of the most notorious cases of deepfakes being uncovered in a court setting was during a 2019 civil case between a mother and father where the woman fabricated and created fake audio recordings of the father making threats. This evidence was vital to the mother's case, so when it was found that the metadata of the recordings didn't corroborate with her story, the case was dismissed. The lawyer of the father said, "It raises all sorts of questions about what sort of evidence can you actually rely on. Is there sufficient judicial training around the world to be able to identify evidence that has been manipulated in this manner?"
In another case of digital evidence being disputed, People v. Beckley, a 2010 case where a Myspace image was admitted as evidence. The California 2nd District Court of Appeal ruled that the prosecutors should not have used the digital image as evidence, as it hadn't been verified or authenticated by an expert.
In an effort to support her cheerleader daughter, an American mother utilised deepfake photos and videos to threaten the daughters rivals on the team. The mother was arrested on charges of harassment and cyber-harassment.
Jason Lichter, director of discovery services at Pepper Hamilton in New York City said, "…if a picture's worth a thousand words, a video or audio could be worth a million. Because of how much weight is given to a video by a factfinder, the risks associated with deepfakes are that much more profound."
Prevention in law enforcement
As Henry Farid (digital forensics expert and professor at Berkeley) said, preventing and identifying deepfakes is a "cat and mouse game".
Law enforcement have a difficult task when navigating deepfakes, both in regard to deepfake attacks on the unsuspecting public but also identifying real and fake digital evidence.
As stated in a Police Chief Magazine article, 'Consider all of the sources of video law enforcement regularly used as evidence—surveillance and doorbell cameras, cellphone videos, body-worn cameras, and dash mounted cameras—and it becomes clear the erosion of trust in video has significant implications for law enforcement.'
To keep pace with the evolution of deepfake technology, DARPA (Defense Advanced Research Projects Agency) developers of GPS and SIRI, is currently finding a solution to detect deepfakes with a high level of accuracy.
Although a deepfake detection system hasn't yet been created, solutions have been built to provide the tamper evidence needed to use digital evidence in court without dispute. By harnessing modern encryption and Blockchain technology, a sealed 'digital evidence bag' around the content of the interview certifies its authenticity.
The tamper evident video meeting platform – Mea: Connexus.
Considering the increase in sophistication of deepfake programs and software, it seems we are on the cusp of deciding where to proceed next in using digital evidence in court. Fortunately, there is a remote video meeting platform that prevents disputes in evidence and ensures evidential integrity.
Introducing Mea: Connexus
Designed to be used in confidential environments like law enforcement, deposition hearings and immigration hearings, Mea: Connexus uses modern security measures like Blockchain technology and the highest level of publicly available encryption to keep meetings and recordings protected. The recordings can be viewed both online and offline, but if there is any doubt that the video has been tampered with, you can use Mea: Connexus to revalidate the video to ensure it has the same encryption key.
As well as this, Mea: Connexus is securely hosted on MS Azure Government and is both NIST and CJIS compliant. With no need to download software or install any hardware, increase the public's satisfaction and the service you provide with easy to use, simple to join video interviews.
Are you interested in learning more?
Discover the other benefits and features of Mea: Connexus, schedule a free demonstration with our experts or read our other Mea: Connexus articles.
Our Favourite Mea: Connexus Features
Improving Wellbeing in Law Enforcement
Recent Posts
Barack Obama is one of the most photographed humans alive on Earth, and although this level of publicity is to [...]

With the introduction of ChatGPT in November 2022 and the rapid progression in machine learning and AI technology, it's no [...]