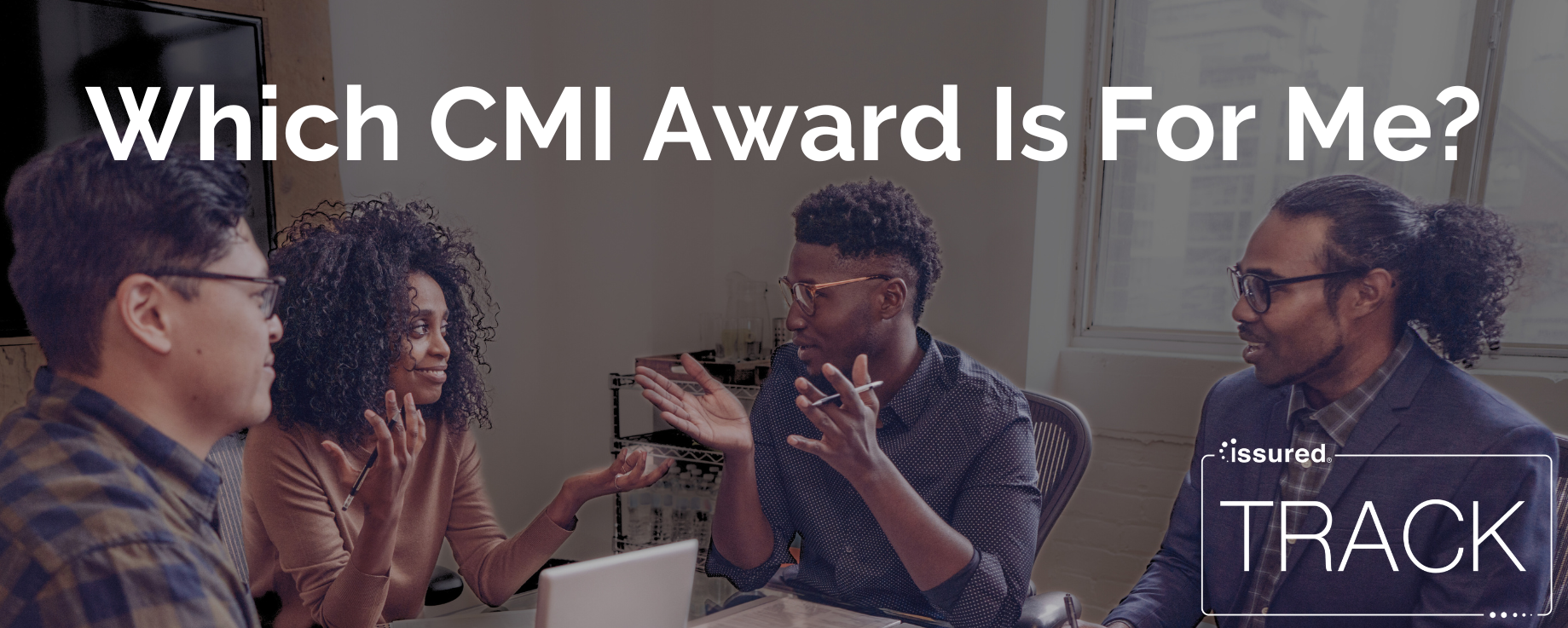 Which CMI Level 5 Award is for Me?
It can be quite overwhelming seeing the vast array of CMI Level 5 leadership and management awards, so the Issured Track team have put together this useful guide on all of the CMI awards we offer.
The CMI level 5 courses are intended for middle managers with experience of leading a team, but are considering ways to develop their management approach in a senior leadership role. Whilst the CMI level 5 Certificate and Diploma are an excellent way to garner new management skills and establish a leadership style, these both require a longer time commitment than awards. Therefore CMI awards are ideal for those looking to cover one unit, requiring less time, and concentrating on a specific skill in which  to develop.
Typically, CMI level 5 awards involve 1 day of learning (full day or two half days) in which you will receive a written assignment. The completion time of the award (both the day learning and written assignment) is usually 1-3 months. If there is a specific award you would like to learn more about, scroll down to discover what the unit entails.
This unit is an excellent choice for those that would like a condensed overview of principles used in leadership and management. Develop and learn fundamental skills required to lead across multiple organisational settings.
Topics covered in this unit include:
Theoretical models
Leadership approaches
Impact of management on organisational structures
The second core unit at level 5 dives into how to successfully manage and lead a team, arguably the most important role of a manager.
This includes:
Theoretical and practical approaches to management
Managing teams (remotely or multi-disciplinary)
Although leading a team and the success of doing so is one of the most important qualities of a leader, creating, growing and maintaining relationships is just as important. There are many relationships in an organisational context to maintain: staff, partners, managers and customers. This unit delves into areas to consider when attaining the best possible outcome of those relationships.
Unit 509 covers:
The types of stakeholder relationships
The purposes of these relationships
Skills required to support relationships
How to manage these effectively
As a manager, overseeing and supervising projects is a vital part of the job. Regardless of the industry, all managers need to possess the ability to manage projects, often requiring many moving parts. Supporting a team, resolving conflict and making decisions are just some of the skills that are needed to ensure projects achieve the desired results.
In this unit, you will learn:
The methods for planning projects
How to implement these methods into projects
Build stakeholder relationships
Manage resources
Monitor progress
Review and analyse results
It's no surprise that in the digital age, being able to cope and manage change as a manager is essential. The unit focuses on the changes to organisational structures, understanding why these changes are happening and how to develop a plan and initiate change.
This unit will help you:
Demonstrate understanding of change
Understand and evidence your ability to manage change
It is one thing to set organisational objectives and Key Performance Indicators (KPIs), but these need to be actioned and converted into achievable plans. As a manager, planning is an essential skill, developing a roadmap with clear checkpoints of what needs to be accomplished and by when. Fortunately, this unit covers the entire process of creating, delivering and managing plans in your organisation.
Some areas include:
Setting KPIs
Monitoring delivery
Knowing how to effectively report the results of the plan
The ability to manage finance is crucial in any environment, as all managers must understand how to plan and use budgets, even if a company utilises a financial team. When taking this unit, you will discover the necessity of financial acumen, and the positive impact it has in decision making, leading to wise spending.
This unit covers:
How financial systems within organisations operate
How to set budgets
How to manage budgets
With the pace of work, it's easy to forget that reflecting on the outcome of a project is not only essential to professional development, but personal too. There are many tools to help reflection become a major component of your leadership approach, but this unit will help you understand which tools work best for you and your learning style. Not everyone will respond confidently to reflection in the beginning, but in time, it will result in better performances from both you and those you lead.
Learn more about:
The different types of reflection
How to make this a regular practice
Encouraging others to reflect, even when the desired outcome is not achieved
Managing Equality, Diversity & Inclusion is a vital skill and should be a priority for all practising managers. This course focuses on the skills required for inclusive leadership and how to adapt leadership styles to support others in seeing the benefits of inclusion. By establishing an inclusive culture that is adaptable and tolerable, managers will see an increase in employee satisfaction leading to higher rates of productivity.
This unit covers:
The role and responsibilities of a manager in relation to EDI
How to monitor and report on EDI
How to develop and implement plans which support EDI within an organisation
We are Here to Help
If you would like to find out more about CMI courses and the Issured Track approach to learning, get in touch with the head of Training & Development, Tom Cliffe. With years of experience in teaching and supporting organisation's with upskilling and training, Tom has a wealth of knowledge and experience to support your employees on any of the training courses we offer.
If your organisation is interested in running a training course for employees, we can deliver the content virtually, at your workplace or on our premises.
Speak to our head of Training and Development for an introductory conversation of the courses we offer, or head over to our dedicated training website to book a course now.
Recent Posts
Barack Obama is one of the most photographed humans alive on Earth, and although this level of publicity is to [...]

With the introduction of ChatGPT in November 2022 and the rapid progression in machine learning and AI technology, it's no [...]