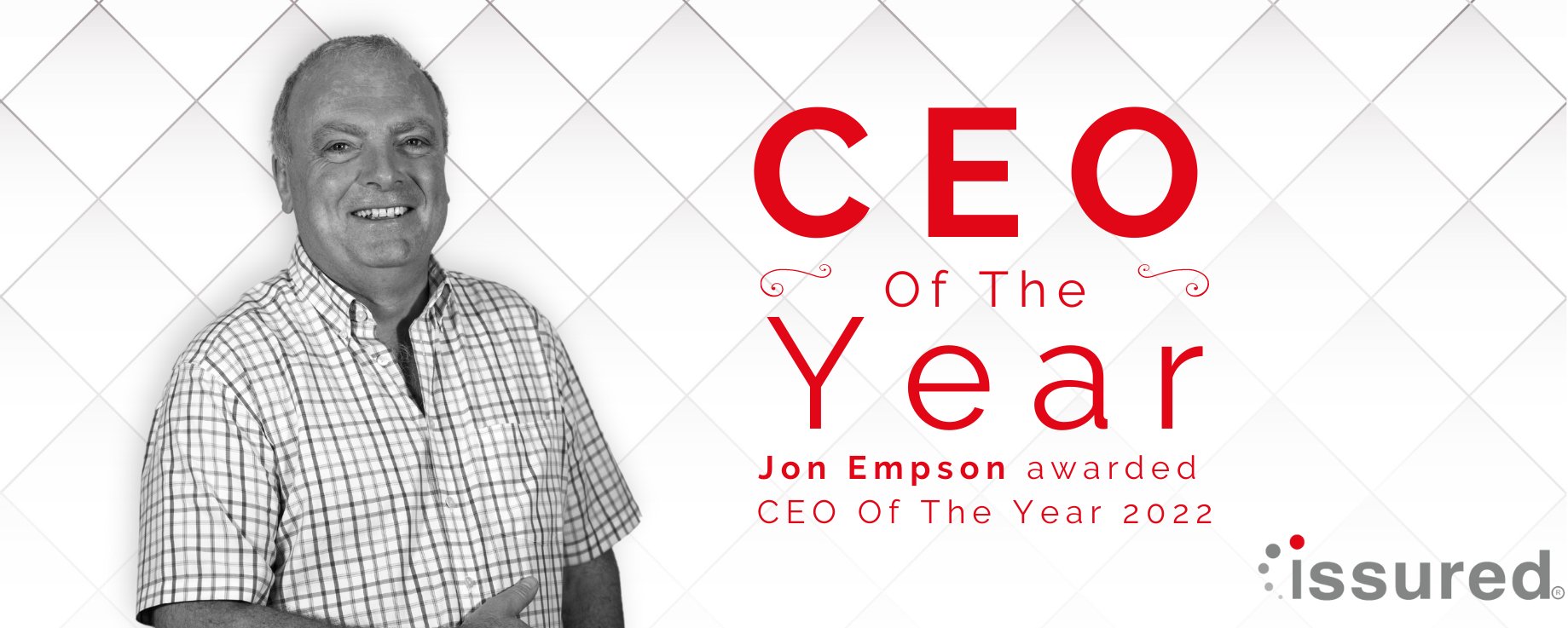 Jon Empson awarded 'CEO of the Year 2022'
Huge growing pains can come along with a burning desire to expand and succeed. In order to deal with these growing pains, it is important to find a business that has all the tools to support us throughout our endeavours. Here we learn more about the business transformation consultancy, Issured Limited, as its very own Jonathan Empson wins CEO of the Year, 2022 – United Kingdom.
Issured Limited is a professional and powerful business transformation company that leads the way for a huge list of businesses around the globe. It helps clients with its team of highly skilled individuals, enabling them to evolve year upon year. Issured's decade of consultancy, secure applications, Cyber security, training, and IT service management guarantee accomplishment and achievement for its many clients.
Issured has nestled itself within a niche arena to help people on their business journeys. Guiding clients through complex, sometimes very difficult, change and digital transformation.
Issured's services are truly lifted by its people skills and seasoned knowledge, making it the place to go for all of your transformational needs. Elevating each business it works with, Issured serves clients in the private and public sectors. Its bespoke consultancy services revolve around each organisation's needs, characteristics, and individual charm. Through such potent digital transformation, Issured guarantees outstanding development for the future.
"Our services cover all aspects of change: People, Process, Information, Technology and Cyber."
Issured's programme and project management aids business transformation that stands the test of time. Trickling through every aspect of its clients' business, Issured's guarantee of success stems from its ability to create bespoke plans that truly work. For example, it guides businesses through planning, developing, and secure data analytics to increase efficiency, accuracy, and awareness.
Its cloud-based technology analyses data to pick up on clients' specific pain points, so that they may improve their infrastructure design, application design and development, risk and compliance, system integration, user experience design, technical governance, and much more.
With a diverse team of brilliant individuals, Issured has built upon its digital and cyber security knowledge and experience to grow its transformation change services. Developing people is central to Issured's approach and with its Chartered Management Institute certification status is integrating leadership and management training to its transformation services.
CEO Jonathan Empson, has been at the helm since Issured's very beginning. Nurturing the perfect culture, Jonathan and the team have formed strong bonds with each other. Maintaining an honest and respectful atmosphere throughout the entire company, Jonathan injected his calm, compassionate traits into the business so that each and every employee and client can feel heard and understood.
Jonathan says, "We take our client work seriously and always maintain a high level of professionalism; however we are conscious that we need to take down time and spend time with our colleagues through regular social events organised and funded by the company." The connection the team has with one another means that everyone can feel empowered and appreciated on a daily basis.
With a background in the Royal Air Force and Law Enforcement, Jonathan has the ability to think fast, adapt, and react to the ever-changing environment. His leadership style pushes Issured to brave new heights through a focus on solid analysis and services that are all tailor-made by its irreplaceable team.
Jonathan shares, "Challenges are varied and overcome by solid analysis and working things through with the right people. One of the difficulties with growing an SME is the ability to recruit the right people to join the team. Investing for the future of the company is always a difficult decision to make. We change in a controlled manner to maintain our working culture and build our services."
Separating itself from its competitors, Issured's services, motivational culture, and strong consultancy skills all push it to the top of its industry. For the years to come, Jonathan tells us, "We will continue to work as a team and build the company. We will work on new challenges together and grow our services as we identify new opportunities. A great team is difficult to find and being able to work with great people is something that should be appreciated."
Jonathan Empson has now won CEO of the Year, 2022, the United Kingdom, and he is sure to continue helping others to achieve their dreams. Congratulations!
Contact: Jonathan Empson
Company: Issured Limited
Website: www.issured.com
Recent Posts
As the digital age is well and truly underway, we have entered a time of transition where selected roles and [...]

Often referred to as the 'the melting pot', the United States is a country that hosts an array of diverse [...]